Posted by Capt. Michael Hogan on
Surf fishing spinning outfits and boat spinning outfits are similar in terms of the rating system used to describe action and power as they relate to the various types of lures you will be casting. Surf rods, however, tend to be longer overall and especially in their butt sections to help the shore angler increase their casting distance in to reach fish. Like a boater's collection, you can go crazy selecting outfits for all the different situations you might encounter but a simple and smart selection of three basic set ups will serve you well in any situation you might...
Posted by Jamie Costa on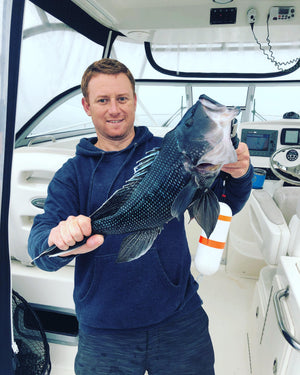 A complete guide to fishing Rhode Island waters, Chris Connelly of Narragansett takes us through a typical fishing season from early spring to mid fall. Some areas include Newport, Block Island and Narragansett bay where anglers can target species from striped bass to false albacore with common Hogy Lure products such as the heavy minnow jig, the sand eel jig and the epoxy jig lure.
Posted by Capt. Michael Hogan on
My buddy Ace & I had been patiently reading and following up on the fishing reports these last few weeks until we decided to make a run at it this past Friday (5/12). With a baby soon to arrive, we knew this might be our last time taking a run at some fish for a while. Baby Brinkmann is due at the end of this month. We loaded up our St Croix's and Van Staal's and ended up at Island Beach State Park around 2 pm. With some sling packs loaded up with a plethora of Hogy sand eel metals...