How-To — Epoxy Jig Lures
Posted by Capt. Michael Hogan on

  Schools of bay anchovies are easily identifiable by the orange or muddy brown appearance that their schools have. They are typically about 2 to 4". Like the silverside, their coloration is very distinctive, easily identified by their orange or brownish appearance and silver striping. Also like the silverside, bass and albies can really key in on the appearance making it hard to catch without the right profile. Anchovy feeds can often be the most exciting as they shower the water. The best retrieve speed for mimicking these is a medium to fast retrieve. Hogy Top Imitator: The Hogy Epoxy Jig...
Posted by Capt. Michael Hogan on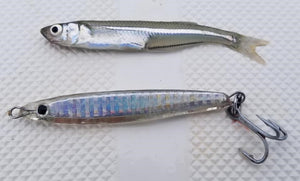 Also known as the spearing or shiner in the northeast, silversides can be found around the rivers and estuaries of the western Atlantic from Canada to Florida. A mature silverside typically reaches a maximum of five and six-inches; during their spawning season from May to July, schools of smaller ones can be found, although they typically grow quite quickly. Silversides are quick swimmers that typically hide in grass beds or swim in schools for protection. Their name derives from the silvery band on their sides which is very distinctive, while their backs are greenish in color; the silver can...
Posted by Capt. Michael Hogan on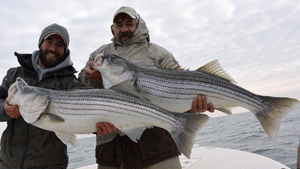 At Hogy, we literally make thousands of different shaped and sized lures for fisheries all over the world. Although the vast majority of our lures work for striped bass, we have compiled the list below to highlight our most commonly used lures, what their applications typically are, and how to fish them. Many of our lures are extremely versatile and can be used both for casting and jigging. While our lures have proven to be excellent options for boat anglers, they have also gained a great deal of attention fromr shore anglers, in some cases offering options that compete with...
Tags:

Cape Cod, Casting, Charter Grade Dog Walker, Charter Grade Poppers, Charter Grade Slider, Dancing Diamond Jig, Epoxy Jig Lures, HDUV Jiggin' Eel, HDUV Jiggin' Paddle Tail, Heavy Minnow Jig, Herring Jigs, Hogy Originals, Jigging, Peanut Bunker Jig, Pro Tail Eel, Pro Tail Paddle, Sand Eel Jig, Striped Bass, Surf Casting
Posted by Capt. Michael Hogan on
Surf fishing spinning outfits and boat spinning outfits are similar in terms of the rating system used to describe action and power as they relate to the various types of lures you will be casting. Surf rods, however, tend to be longer overall and especially in their butt sections to help the shore angler increase their casting distance in to reach fish. Like a boater's collection, you can go crazy selecting outfits for all the different situations you might encounter but a simple and smart selection of three basic set ups will serve you well in any situation you might...
Posted by Capt. Michael Hogan on
Rods are generally rated by their "action" and their "power" and also include specifics such as lure weight range and recommended line strength, also known as "pound test."  An entire book could be written about rod and reel combos and their nuances, but we take a very basic approach at Hogy where we focus on just a few outfits that will suit the angler well in any situation you can think of when targeting stripers with artificials. Rod Action The industry uses the term "action" to describe where and how a rod will bend once it is loaded. Understanding a...
---