How-To — False Albacore
Posted by Capt. Michael Hogan on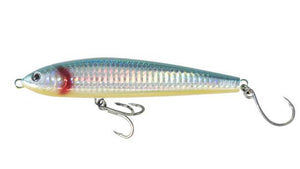 Like the juvenile herring, bass and albies get very aggressive when keyed in on small mackerel. They are fast moving schools, so be ready to be nimble. Obviously green is the top color for matching the hatch for mackerel. As fast to very fast retrieve is ideal for these little speedsters. Hogy Top Imitator: For Juvenile to medium sized mackerel our top imitators are the Hogy Pro Tail Paddles in Green Silver up to 6.5. A metal option would be our Herring Jig in green silver and lastly our 5" and 7" Charter Grade Sliders in Green Silver would give you...
Posted by Capt. Michael Hogan on
You know the fall has either arrived or is imminent when peanut bunker show up. Like the bay anchovy, peanut bunker ball up in great numbers just under the surface. Peanut bunker typically range from 2 to 3inches. And like both the bay anchovy and the silversides, peanut bunker too have a very distinctive color patterns. When they are dead, they appear to be silver as they lose their coloration very quickly. Don't be fooled! But alive and well in their habitat, Peanut bunker have an olive twinge, with pink colorations. Your go to color patterns will be olive, ideally...
Posted by Capt. Michael Hogan on
Surf fishing spinning outfits and boat spinning outfits are similar in terms of the rating system used to describe action and power as they relate to the various types of lures you will be casting. Surf rods, however, tend to be longer overall and especially in their butt sections to help the shore angler increase their casting distance in to reach fish. Like a boater's collection, you can go crazy selecting outfits for all the different situations you might encounter but a simple and smart selection of three basic set ups will serve you well in any situation you might...
Posted by Capt. Michael Hogan on
Rods are generally rated by their "action" and their "power" and also include specifics such as lure weight range and recommended line strength, also known as "pound test."  An entire book could be written about rod and reel combos and their nuances, but we take a very basic approach at Hogy where we focus on just a few outfits that will suit the angler well in any situation you can think of when targeting stripers with artificials. Rod Action The industry uses the term "action" to describe where and how a rod will bend once it is loaded. Understanding a...
Posted by Jamie Costa on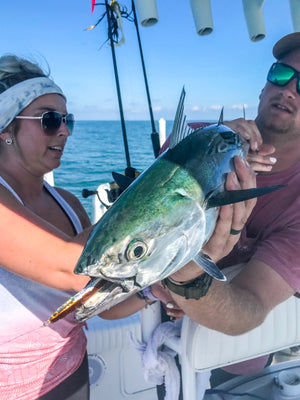 We spent 15 minutes on the phone with Capt. John Berquist to discuss sight casting to false albacore with the Hogy Epoxy Jig Lure at the Outer Banks. Here's what we found out..  Capt. John Berquist Website: https://drumbeatfishing.com/ Facebook: Drumbeat Fishing Inshore Instagram: @drumbeat_fishing Location: Outer Banks, North Carolina The Outer Banks of North Carolina are a fishery that should be on everyone's bucket list. For Capt. John Berquist, this is basically his back yard. The false albacore start to make their way south in September, leaving the cooling waters of New England and heading straight for the warmer waters of North...
---