How-To — Heavy Minnow Jig
Posted by Capt. Michael Hogan on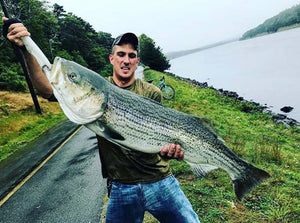 Jetties are serious producers. Although they can be fished around the clock, they often produce best at night. The best jetties offer some sort of rip line and give you access to get behind some sand bars.  Approach: Fish swinging and fan casting are great methods for targeting surf, including sand bars and rips. Sometimes, jetties will help when casting heavy lures to reach fish "way out there," but never forget to fish the water close to and on both sides of a jetty. Fish often hang closer to structure, such as jetties, than people realize.   "If I Had Just...
Posted by Capt. Michael Hogan on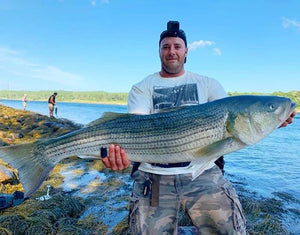 Open Beach: There is often more than meets the eye at an open beach. Structure-wise, you have gradual drop-offs, fast drop-offs, sand bars, deep troughs, rocks and boulders.  Approach: Work the system at hand. Bounce along the bottom, fish along the top. Tide: Varies by structure.  "IF I JUST HAD ONE" with SHELL E. CARISLOCATION: New JerseyTARGETED SPECIES: Striped BassLURE: Slow Tail SeriesCOLOR: Bone "This lure has tremendous action. It casts great and I have been fishing for over 60-years in the surf and the way it swims in shallow water (2 to 7-feet) is unbeatable." "It tracks incredibly well because of its weight....
Posted by Capt. Michael Hogan on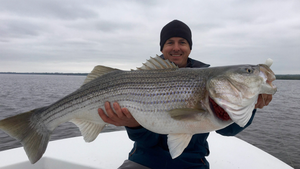 Metals come in all shapes and sizes. At Hogy, our lineup is no different. Each lure is designed to have a specific profile and action in the water. Each of our jigs can be cast or jigged. Here's an outline on how to fish each of our metals. Hogy Heavy Minnow Jig Lure: The Hogy Heavy Minnow Jig is designed to imitate small baitfish and have a high weight density relative to its overall size making this lure a long distance caster. The best way to fish this lure is at a medium to fast lure retrieve. If on a boat,...
Posted by Capt. Michael Hogan on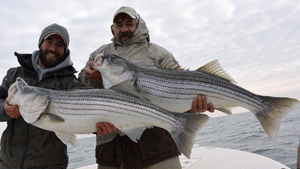 At Hogy, we literally make thousands of different shaped and sized lures for fisheries all over the world. Although the vast majority of our lures work for striped bass, we have compiled the list below to highlight our most commonly used lures, what their applications typically are, and how to fish them. Many of our lures are extremely versatile and can be used both for casting and jigging. While our lures have proven to be excellent options for boat anglers, they have also gained a great deal of attention fromr shore anglers, in some cases offering options that compete with...
Tags:

Cape Cod, Casting, Charter Grade Dog Walker, Charter Grade Poppers, Charter Grade Slider, Dancing Diamond Jig, Epoxy Jig Lures, HDUV Jiggin' Eel, HDUV Jiggin' Paddle Tail, Heavy Minnow Jig, Herring Jigs, Hogy Originals, Jigging, Peanut Bunker Jig, Pro Tail Eel, Pro Tail Paddle, Sand Eel Jig, Striped Bass, Surf Casting
Posted by Capt. Michael Hogan on
Surf fishing spinning outfits and boat spinning outfits are similar in terms of the rating system used to describe action and power as they relate to the various types of lures you will be casting. Surf rods, however, tend to be longer overall and especially in their butt sections to help the shore angler increase their casting distance in to reach fish. Like a boater's collection, you can go crazy selecting outfits for all the different situations you might encounter but a simple and smart selection of three basic set ups will serve you well in any situation you might...
---