How-To — Ice Fishing
Posted by Booster Apps on
Hogy fan Kierran Broatch and friends take a road trip to Lake George and catch a pile of Lake Trout using smelt imitating 2.5″ & 3″ SI Epoxy Jigs in Silver and Blue. The fish were holding in deep water and responded well to suspended jigging presentations. Gear List: SI Epoxy Jigs 3/8oz – 5/8oz
Posted by Booster Apps on
In 2012 we learned about a "secret bait" top lake trout guides were using to target TROPHY lake trout through the ice. The technique was first made public when FIELD & STREAM TV filmed an episode with renowned guide Bernie Keefe in Granby, Colorado. During the filming of this episode, the host and crew were faced with tough fishing conditions. Show Host Joe Cermele was surprised when Bernie Keefe chose to drop the Hogy 10-inch Original Series down through the ice. Within moments he was hooked up with the first fish of the trip. As the day continued, several other TROPHY LAKE TROUT were caught on film using the Hogy 10-inch Original Series. ...
Posted by Booster Apps on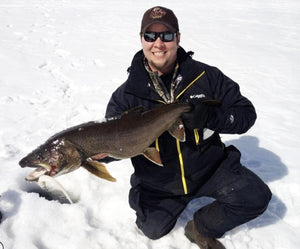 We spent 15 minutes on the phone with Bernie Keefe to discuss jigging for lake trout with the Hogy Original in Colorado. Here's what we found out...  Guide Bernie KeefeWebsite: https://www.fishingwithbernie.com/Instagram: @fishing_with_bernieFacebook: Fishing With Bernie Location: Lake Granby, Colorado Tides: Frozen Tundra Approach: Lake Trout bite all day but they are more sensitive to pressure (fishing) than anything else.  "I like to use a run and gun approach and hit the area hard," Keefe said. "If the fish are there, we stay a little longer and if we do not see anything, we move through quicker." Keefe added that they find structure then "drill...