How-To — King Salmon
Posted by Ross Gallagher on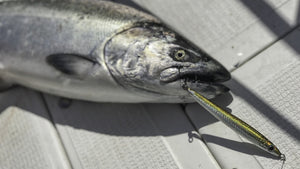 One of these traits is "Matching the Hatch" where the fish will feed on what is hatching and or available at the time. In the Pacific Northwest, a collapse in the Herring abundance has forced the salmon to look for other available forage and that has become mainly the
"Sand Lance"
or sometimes called here the "
Needle Fish"
. It is amazing that something so relatively small can become the primary meal for such a large and fast-growing fish.
Posted by Capt. Michael Hogan on

We let nature do the design work on the Hogy Sand Eel Jig Series. These highly imitative Candlefish and Sand Lance imitators are perfect for light tackle casting and jigging for King and Coho Salmon, Rockfish and Ling Cod. The Sand Eel Jigs are offered in a variety of sizes and weights to closely imitate specific forage sizes. These jigs can be fished from shore, boat or kayak. When fished on a steady surface retrieve, the jig offers a wide side to side kick, imitating a swimming candlefish. On a vertical retrieve, the jig features a wounded baitfish flutter. Perfect...