How-To — Spanish Mackerel
Posted by Jamie Costa on
We caught up with Chris Connelly who escapes the cold and the New England off-season with annual trips down to Long Island, Bahamas, not to be confused with New York. Given its remote location, anglers can expect tricky flights and puddle jumpers from Fort Lauderdale to Nassau but it's all worth it to escape the cold and get on some good fishing. Due to it's limited accessibility, tackle and gear can be hard to come by but every year, Chris puts together a "Hogy Lure Reef Kit" that includes 1oz Pro Tail Paddles in bone and olive, Heavy Minnow Jigs,...
Posted by Jamie Costa on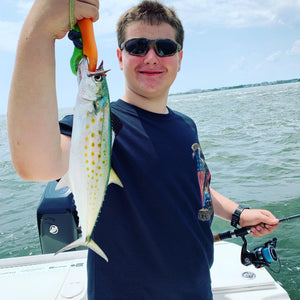 Capt. Chris Mozitis of Ocean City, New Jersey takes us through a day on the water chasing Spanish Mackerel outside of Great Egg Harbor Inlet. His go-to lure of choice, the Hogy Epoxy Jig Lure, perfectly imitates the baitfish being swept off the sand bar into the waiting mouths of predators.
Posted by Ross Gallagher on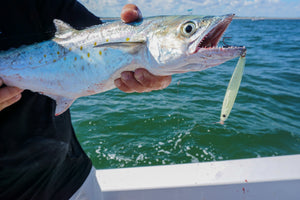 The Spanish Mackerel are usually feeding on small bait fish such as anchovies, glass minnows, pilchards, or small ballyhoo. With the action and profile of the epoxy jig, it perfectly imitates the food source that the fish are targeting.