Posted by Ross Gallagher on
The traditional tube and worm lure has been used by Striped Bass anglers for decades. Recently, we've seen a dramatic uptick in our Mid-Atlantic customers using the Hogy 19" and 24" Perfect Tube to target migratory populations of cobia along Virginia Beach and the Lower Chesapeake Bay area. Trolling a tube lure for cobia offers several advantages when run and gun style sight fishing isn't producing.   1. Depth Control: Trolling tubes can be fished at specific depths with the use of lead core line, in-line trolling weights and planers. Tubes are often trolling in water as shallow as ten...
Posted by Jamie Costa on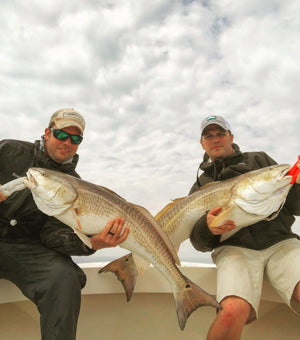 Capt. Steve Mason of the Chesapeake Bay area gives us a run down on his techniques and favorite Hogy lures when sight casting to top water, bull reds on the Eastern shore side of Maryland and Virginia.
Posted by Booster Apps on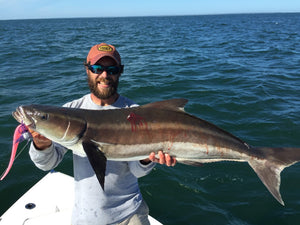 We spent 15 minutes on the phone with Capt. Tyler Nonn to discuss sight casting for summer cobia with the Hogy HDUV Jiggin' Eels and Paddle Tails in Virginia Coastal Waters and the Chesapeake Bay. Here's what we learned... Capt. Tyler NonnWebsite: www.twcharters.comInstagram: @tidewaterchartersFacebook: Tidewater Charters Location: Chesapeake Bay and Virginia Coastal waters Tides: Both tides produce fish. Unlike winter Florida Keys cobia, Virginia fish generally will travel and show themselves on the surface during any part of the tide cycle. Tide lines and rips created by shoals or any structure subsurface often produce fish on the stronger outgoing tides. Approach: Start down...