Posted by Booster Apps on
Hogy Barbarian Series: While the Barbarian jig heads are popular heavy-duty jig heads for school sized tuna, they were originally designed for fishing in the Cape Cod Canal. To deal with the current runs up to 8 knots, we were getting requests from anglers to make a 2x strong jig head that could support the pressure of an angler putting the boots to a large fish that was running with the tide. Barbarian Jig Heads:   HDUV Jiggin' Eel: The HDUV Jiggin' Eel has a solid body with a blunt head ready to accommodate large jig heads. Top Ranked Colors for Cape...
Posted by Booster Apps on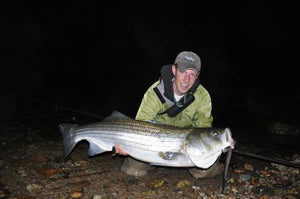 Fishing the "breaking tide" is the Holy Grail for Cape Cod Canal fishermen, especially those who prefer to fish top-water baits. A breaking tide in the Cape Cod Canal is the rare occurrence on or around a full or new moon when dead low tide (slack current) happens at day-break. Fish tend to move closer to shore and toward the surface at low tide. Pair this with the feeding bell associated with sunrise and you have the perfect time to throw top water baits to stripers in the canal. Top water soft baits are some of the most effective lures for...