Q&A: Fishing the Cape Cod Canal with Hogy Epoxy Jig Lures
Posted by Ross Gallagher on
QUESTION
Hi! I am a Cape Cod Canal striper fisherman with a good array of large plugs, darters, swimmers and savage rubber tails. I am looking for a few epoxy jigs for spring and fall for striper fishing. 
It seems some smaller stripers were around in May and October in the canal and I think I need a few epoxy jig to match smaller fish but still handle larger ones, hook wise. 
Casting distance also seems important at the canal and most of my big lures are 3oz - 3.75oz. I know I need to balance Epoxy Jig size vs weight. 
What do you recommend given the season, size, color and casting needs for striper canal fishing?
Thank you!
Tim
ANSWER
Hi Tim, 
We have some great options for stripers in the canal and offering slightly smaller presentations for targeting the schoolies while having strong enough rigging to tackle larger models.
I'm assuming that you're going to try and use the same setup that you're throwing the 3-4oz plugs on, so we'll try to accommodate that tackle as well.
While the 4.5" size may be slightly on the large size for schoolies, this weight and profile will offer the best casting distance and action while working presenting the jig near the surface with a medium to medium-fast retrieve. These jigs are best fished on the swing and excel when you're seeing surface activity. Work the jig just below the surface, while occasionally popping the jig out of the water for a great fleeing bait fish action.
Likewise, the Epoxy Jig excels on a mid-water retrieve as well. Fishing the swing, allow the jig to sink for several seconds before beginning the restive, maximize the slow fall and flutter of the jig by popping the rod tip two to three times while tending the slack as the jig sweeps. (Note if you're able to use a lighter action rod, take these tips but use the 1.25oz Epoxy Jig)
These jigs are a personal favorite when fish are keyed in on micro bait. The jigs offer a very small profile, heavy casting weight, through-wired design and heavy duty VMC treble hooks. Similar to the Epoxy Jig, they can be work near the surface, midwater or bounced lower in the water column. These may end up being your top choice for offering a very small profile while having casting distance on heavier tackle.
Both of these jigs feature 4x VMC Treble Hooks, but can easily be swapped over to single hooks. Attached is a rigging guide with recommended sizes.
3. Colors: You can keep the color selection fairly tight. Classics like pink imitate squid, SilverSide for herring/rain minnows, Green or Olive for Macks and Sand Eels.
4. Tip: Make sure to attach the Epoxy or Heavy Minnow Jig to your leader via loop knot for the best possible action. Clips can also be used if you prefer.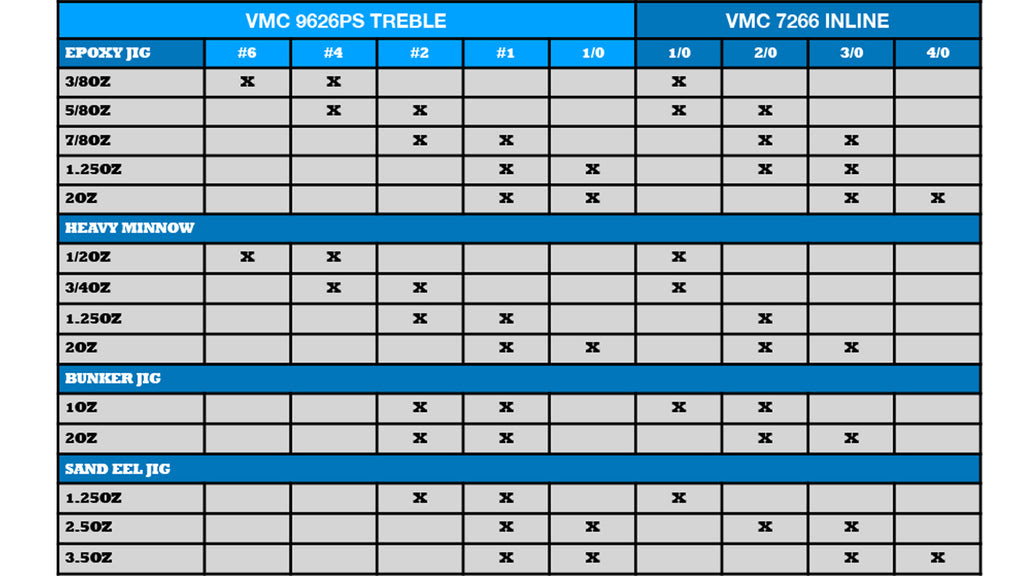 Please let me know if there is anything else I can help answer!
---
Share this post
---
---