Q&A — Heavy Minnow Jig
Posted by Ross Gallagher on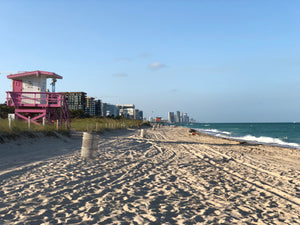 Q: I am planning on surf fishing on the Atlantic Ocean side of Florida and need some new tackle. Could you please recommend some lures that you think would be appropriate for this environment? A: Depending on  your location in FL, your primary beach target species will probably be jacks, snook, ladyfish and mackerel. If you're headed that way later into the spring, tarpon are a possibility as well. My favorite "catch all" style lure for beach fishing is our smaller Heavy Minnow Jigs in 1/2oz - 3/4oz weights. I fish these on a medium spinning outfit with 20lb braid...
Posted by Ross Gallagher on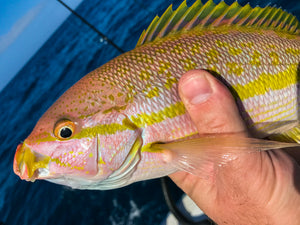 Q: Do you have jigs or plastic for Yellowtail Snapper? A: I have a few favorite jigs for targeting Yellowtail Snapper. Quick question, are you fishing shallow reefs, like in the keys or deeper wrecks 100' plus?Our lightweight 1/2oz and 3/4oz Heavy Minnow Jigs are awesome for shallow yellow jigging, they work great on a drift and really knock it out of the park when combined with traditional yellowtail chumming / bait fishing. I usually have a few folks fishing bait in the slick, then two jigs working the water column. The jigs usually produce 4:1. If you're out deeper,...
Posted by Booster Apps on
QUESTION: What's your expert opinion on utilizing Pre-Rigged or Dancing Diamond Sand Eel lures when fishing offshore (west coast of Florida) 50 – 80′ for snapper – grouper or other species. Is it worth a try or a waste of time?? Dick L. ANSWER: Dick, Thank you for reaching out to us. We appreciate your business very much.I frequently fish offshore of Fort Myers/Sanibel for grouper and snapper. We are coming into my favorite time of year, when the gag and red grouper move back nearshore and keepers can readily be caught in 30′ – 80′. I'm happy to outline...
Posted by Booster Apps on
QUESTION: [What are the] best grouper lures? I fish in Southwest Florida that is Marco Island Florida about 15 miles out at 45 to 50 feet. Robert   ANSWER:  Robert, I'm very familiar with the area and have had some great success on shallow water gags and red grouper. I'll normally fish these on a heavier spinning jig setup with 50lb – 80lb braided line using 50lb – 80lb fluorocarbon leader. All baits are dropped to the bottom and jigged 1-10′ off the bottom. I find they work great while drifting or on anchor. You'll also find that amberjack, cobia,...
---