Q&A — Trolling
Posted by Capt. Michael Hogan on
QUESTION: I'm new to T&W, was going to get lead core line. How should I choose between weighted and non weighted perfect tube? I live in NJ and would be trolling for stripers. Also what are good lengths to start with? ANSWER: You've got an excellent question about when and where to use the regular Perfect Tube or the Dual-Weighted version.  The regular Perfect Tubes still offer a fair amount of weight from the stainless frame and rigging. Our 19inch Regular Perfect tube is 2.5oz total weight and the 24inch is right about 3oz. When we add the dual weighting...
Posted by Capt. Michael Hogan on
QUESTION: Hey Mike, I have seen a few of your video's where you are using lead core line braid backing. I am just wondering what set up you recommend and what lead core you are using. I really like the idea of a lighter tackle like set up. Also your reports and web site it fabulous. Checking it every day. Learn a lot and try to always fish Hogy's. Thanks,Rob S ANSWER: Thanks for emailing Rob. Here's an article I wrote for Hogy Lures breaking down my light tackle lead core outfit. I am also writing a story soon about...
Posted by Booster Apps on
Question Hi, I am from Nottingham, England and will be renting a holiday camp in Northeast Harbour, Maine next month. I will be renting a boat June 23-25th to troll for stripers and want to buy the Perfect Tube but not sure which size to buy. Can you advise please? Also, any other advice would be welcomed. I have watched most of your you tube videos for gaining general advice, but some specific advice for that time of year and location could make all the difference. Cheers,Eric Nottingham   Answer Eric, Thanks so much for reaching out to us. We...
Posted by Booster Apps on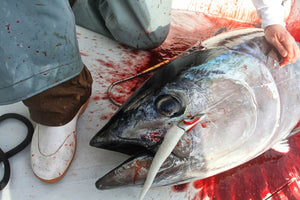 QUESTION Hi Mike, My name is Jackson and my dad and I met you at the Castafari Seminar. I am here to ask you a couple of questions on casting for bluefin. 1. I just got a new combo a 20000 saragossa on a 7'8" terez rod by Shimano and wondering what should I get it laced up with meaning braid, or mono and how much pound test should I get on it and what type of line brand? (Shimano recommended Power Pro). 2. What leader should I tie when going casting/jigging for BFT? 3. What lures should I use...
---