---
Needle Sharp VMC Barbarian Jig Hook

Natural Lead Finish

Heads Pair Perfectly On HDUV Soft Baits

Rounded Profile Excels in Swimming or Vertical Presentations
The unique design of the Barbarian Tournament-Grade Jig Heads' technical locking curve allows a maximum transfer of energy towards the point while setting the hook. This results in a faster and more effortless penetration of the point and up to 25% improved hooking rate.
Customer Reviews
Write a Review
Ask a Question
02/14/2022
Robert B.

United States
07/26/2021
Matthew D.

United States
Hogy Barbarian Jig 10/0 and Slappy 13" Blamber Eels
I purchased 2 six packs of the Slappy eels and the barbarian hooks for striper fishing at Block Island. These things are amazing. Not only do they catch fish but they tend to only catch the big ones. We have had multiple trips with over 40 fish and many well over 50#. We have used a wide variety of similar soft plastics but nothing out fishes the Blamber. We use a slightly different method to the vertical jigging. We cast out, let it hit the bottom then a VERY slow retrieve with quick twitches. They are pretty durable. We often get 3-4 big fish before they get torn up. In a pinch i have super glued repaired them but the new ones work best. I just re-ordered......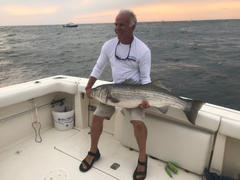 03/19/2021
joe T.

United States
02/28/2022
John G.

United States
Babarian Jig 6/0
Great for rigging soft plastics for bass and large weakfish. In heavy current or fast drift, gets the baits down without need for heavier sinkers. Work really well!
02/18/2022
Matt T.

United States
My Go To Hook
Terrific hook. Gets the job done. Very strong and keeps a sharp point.
---
We Also Recommend