---
Incredibly Sharp VMC 7266 In-Line Hook

High Carbon Construction

In-Line Eye Orientation

VMC 7266 INLINE HOOKS (Traditional and BuckTails)
Here at Hogy, we are big fans of inline hooks and particularly the 7266 made by VMC. We stock sizes from 1/0 all the way to 6/0.
7266 1/0 is ideal for the same sized jigs as the #6 ABOVE
7266 2/0 is ideal for the same sized jigs as the #4 ABOVE
7266 3/0 is our most popular hook in the series and ideal for the same sized jigs as the #4 AND the #2 ABOVE
7266 4/0 is ideal for the same sized jigs as the #1 and 1/0 ABOVE
7266 5/0 is ideal for the same sized jigs as the 1/0 AND 2/0 ABOVE
Customer Reviews
Write a Review
Ask a Question
Filter Reviews:
hooks
Andre
lures
fishes mouth
choice
Hogy
plugs
treble
worth
idea
01/31/2021
Daniel K.

United States
The Absolute Best Treble Hook For Big Striper
The VMC 7560 Tropic Spark Point treble is, in my opinion, the best treble hook for large canal striped bass. It's also a hook not readily available in the US so it's a real treat for Hogy to not only rig their offshore plugs with these, but carry them in stock. Compared to the much more common VMC 8527 6x trebles, the 7560 has a shorter shank, wider gap, and the magic is really in the hook points themselves. With the tapered spark point tips you get *********** that most heavy duty trebles in the same class simply cannot achieve due to their wire gauge thickness. The 7560 spark points bury into even the hardess gamefish mouths like a much thinner hook but that point quickly transitions into the bulletproof hammered flat shanks that 6x VMCs are known for after the barb. For anyone who has lost that fish of a lifetime due to terminal tackle failure, look no further than these.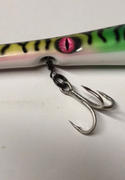 01/03/2023
Jonathan B.

United States
Best hooks in the game
Strength and reliability is there
11/02/2022
Eugene P.

United States
Inline replacement for sand eel hooks
Got these dressed up hooks to replace the trebles on the metal sand eel jigs for sea bass. Been working pretty good so far, hope the bucktail teaser stays on
10/31/2022
Edmund H.

United States
Perfect with 7/8 Epoxy Jigs
I paired these hooks with a bulk kit of unrigged 7/8 oz Hogy Epoxy Jigs, and this allowed me to get exactly the lures I wanted.
09/07/2022
Lincoln A.

United States
Replace hooks on pencil poppers
---
We Also Recommend