SW3NH
CLOSEOUT: 18" UV Sword Eel - Unrigged Single (REG. $12.95)
---
Specialized Deepwater UV Blended Soft Plastic

Fast Taper Tail - Serpentine Eel Action
Conceptualized by South Florida commercial fishing Capt. Cory Burlew. This finely tuned swordfish eel is the hot new bait in daytime deep dropping. Designed to imitate favorite deep water forage like snake mackerel and other eel-like creatures.
Customer Reviews
Write a Review
Ask a Question
Can't argue with success! :-) !! :-) !!
As many others have said, ours worked right out of the bag (unscented) on the first trip. Also in line with what others have found, we couldn't keep the big +/-20" squid off our rigged natural squid baits. Every drop the baits were getting pecked apart almost immediately and we'd bring up one or two extra live squid each time (can't believe they were motivated enough to hang on for tbe 1800' ride up, ****). Nevertheless, down went the hogy (blk & purple) and first drop we came tight but pulled the hook. On second drop we repeated again coming tight quickly but pulled again (no fault of the lure...that was all user error). 3rd time was the charm and stuck her finally. One tip I'd pass on to others using this is to not just let it sit. Every bite came when the bait was being brought up (not necessarily to the boat but just on one of the drop back to bottom and then up 1-200'...rinse and repeat). Tight lines all! (Btw, just picked up another 4 of these baits)&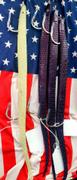 Alaska fishing
Halibut and Rock Fish. I set the Eels up via a drop shot technique. I figured most fish would be caught on second hook. I was wrong, fish inhaled the Eel like bass to a plastic worm. Fish were caught on the front hook. Bait rubber held up good to teeth and wear and tear. My one complaint with a Hogy product is there mesh tackle bag. On the first trip the bottom mesh was worn through from the plastic tackle boxes placed inside. A one trip wonder. Mesh is weak and will NOT hold up to use.
05/20/2022
Jodie A.

United States
18" UV Tandem Sword Rig Skirted-Black/Purple
I wanted to try this as Corey has done on the East Coast in your HOGY Video and apply this to the West Coast off of California deep dropping for Swordfish. Ed
03/28/2022
Jim G.

United States
18" UV Tandem Sword Rig Skirted
After receiving this rig, it was easy to see it was made with top-of-the-line components. The crimps were perfect. The rig will be used in the Northeast canyons. I can't wait to give it a try this summer,
03/29/2021
christopher m.

United States
Sword Fish eel
Always on boat never know when we will swordfish easy to rig A+++
---
We Also Recommend