Posted by Jamie Costa on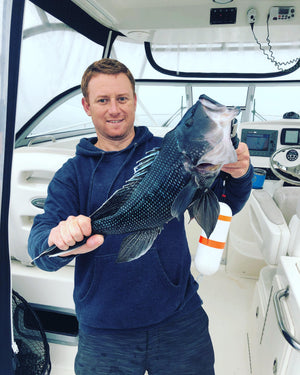 A complete guide to fishing Rhode Island waters, Chris Connelly of Narragansett takes us through a typical fishing season from early spring to mid fall. Some areas include Newport, Block Island and Narragansett bay where anglers can target species from striped bass to false albacore with common Hogy Lure products such as the heavy minnow jig, the sand eel jig and the epoxy jig lure.
Posted by Booster Apps on
We spent 15 minutes on the phone with commercial fisherman, Brian Yacino, to discuss drift fishing the Hogy Skinny Series soft bait for fluke in Point Judith, Rhode Island. Here's what we learned..  Location: Point Judith, RI Tides: Flood tide. Approach: Fluke are constantly on the move, but will take up residence in an area for a few weeks before moving again. This technique is designed to be used in deeper water (30′ – 60′) when fish are holding over  pebble or sandy bottom. When commercial fishing, it's common to fish up to 7 rods at one time. Brian's Work Bench: For the past...