Q&A — Bluefin Tuna
Posted by Capt. Michael Hogan on
Q: I just took delivery of a Hogy Tuna Spinning Rod. It appears one of the guides is backwards? A: Reverse Footer Guide System: Some tuna rods feature a "backwards" first guide, with the guide facing toward the reel instead of away from it. This design choice is primarily based on line management and casting reasons. 1. Improved Casting: The backwards orientation of the first guide can help reduce line slap on the blank during a cast. When casting, especially with braided lines, the line can come off the reel in wide coils 2. Line Management: The backward-facing guide can...
Posted by Jamie Costa on
QUESTION: Hi Ross, I was wondering if you could tell me how many pounds of drag you set your reels for while trolling the Hogy Flexi-Bars for tuna? Some say set-to-strike and set strike to 1/3 of line test. For example, 20lbs for 60lbs of braid. Others say 10-13lbs while trolling and move the lever drag slowly to strike after hooking up.  What do you recommend? Thanks, Andre ANSWER: Hi Andre, Thank you for reaching out to us! We appreciate your business very much. I tend to go lighter, maybe 10lb, if using light tackle (say 40lb or 60lb). I...
Posted by Booster Apps on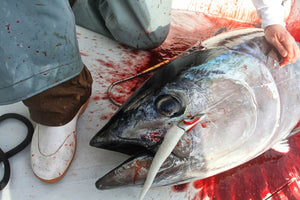 QUESTION Hi Mike, My name is Jackson and my dad and I met you at the Castafari Seminar. I am here to ask you a couple of questions on casting for bluefin. 1. I just got a new combo a 20000 saragossa on a 7'8" terez rod by Shimano and wondering what should I get it laced up with meaning braid, or mono and how much pound test should I get on it and what type of line brand? (Shimano recommended Power Pro). 2. What leader should I tie when going casting/jigging for BFT? 3. What lures should I use...