Q&A — Spreader Bar
Posted by Jamie Costa on
QUESTION: Hi Ross, I was wondering if you could tell me how many pounds of drag you set your reels for while trolling the Hogy Flexi-Bars for tuna? Some say set-to-strike and set strike to 1/3 of line test. For example, 20lbs for 60lbs of braid. Others say 10-13lbs while trolling and move the lever drag slowly to strike after hooking up.  What do you recommend? Thanks, Andre ANSWER: Hi Andre, Thank you for reaching out to us! We appreciate your business very much. I tend to go lighter, maybe 10lb, if using light tackle (say 40lb or 60lb). I...
Posted by Ross Gallagher on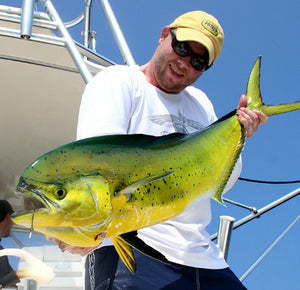 Q: I'm in Boynton Beach Florida now moves here from Long Island. Would my spreader would my spreader bars and green machines be effective here trolling for tuna and mahi?
A: We've had the best success trolling the 30" and 40" squid bars around south Florida. The 6" squids on the lures are a good fit for local Blackfin tuna and Mahi. We normally deploy at least 2 spreader bars, then run two rods with skirted ballyhoo on a Hootie Head. Great spread for trolling at 6-8 knots.