Q&A — Cape Cod
Posted by Jamie Costa on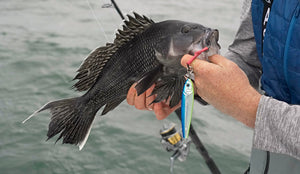 Question:  Hello, I am a huge fan of your lures and I am getting ready to place an order for the upcoming season and I had a few questions. I love jigging for seabass off Cuttyhunk with your jigs. But I lost all my jigs in the rocks last year and I can't remember what size and weight would be best. Can you make a recommendation? Also, can you recommend a rod and reel for that type of action as well? Thanks,Mike Answer: Hi Mike, Thank you for your business and reaching out about this question! I'm sure a lot...
Posted by Ross Gallagher on
QUESTION Hi! I am a Cape Cod Canal striper fisherman with a good array of large plugs, darters, swimmers and savage rubber tails. I am looking for a few epoxy jigs for spring and fall for striper fishing.  It seems some smaller stripers were around in May and October in the canal and I think I need a few epoxy jig to match smaller fish but still handle larger ones, hook wise.  Casting distance also seems important at the canal and most of my big lures are 3oz - 3.75oz. I know I need to balance Epoxy Jig size vs...