Q&A — Rigging
Posted by Capt. Michael Hogan on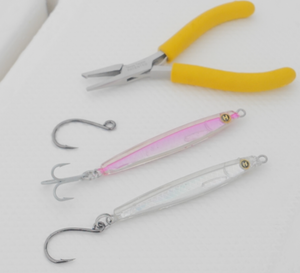 Q: Hi, I'm changing out some treble hooks to single inline hooks on my Hogy Epoxy Jigs. Do you recommend hook point up or down? Can you explain the pros and cons of each of these hook placements? I'll be using these mostly from kayak around the Nobska area. - Tim H. A: I prefer hook pointed down. I've tried both ways an found I get more and better hookups this way on albies and tuna. No other reason. VMC in-line singles are my hook of choice. - Capt. Terry Nugent | Riptide Charters A: I don't not change the...
Posted by Ross Gallagher on
Question: Hey guys, I want to try pulling some artificial stuff on my Joe Shute heads this year.  How would the speed tails work or should I stick with the original soft baits? I'm fishing for yellowfin so let me know what size is best but I typically pull a 7691 SS Mustad. Also, do you have any recommendations for colors? Thanks, Michael Answer: Hi Michael, Thank you for reaching out to us. We appreciate your business very much. We have two options that will work great for trailers behind Shute heads.  1. 9" HDUV Eel Tail: These hand-poured soft...
Posted by Capt. Michael Hogan on
QUESTION: Hey Mike, I have seen a few of your video's where you are using lead core line braid backing. I am just wondering what set up you recommend and what lead core you are using. I really like the idea of a lighter tackle like set up. Also your reports and web site it fabulous. Checking it every day. Learn a lot and try to always fish Hogy's. Thanks,Rob S ANSWER: Thanks for emailing Rob. Here's an article I wrote for Hogy Lures breaking down my light tackle lead core outfit. I am also writing a story soon about...
Posted by Booster Apps on
QUESTION: I thought I saw that you sold a double hook rig for the flounder. I want to try this out for ling cod. Thanks. ANSWER: Thank you for reaching out to us. We appreciate your interest very much. The rig featured in that video was our Drop Shot Rig.  An additional hook was clipped to the bottom along with the lead weight. You can easily use a heavy jig head to accomplish the same rigging as well. Make sure to check out our new 6″ Sand Dab Series.  The heavy duty UV infused blended plastic for increased visibility in...
Posted by Booster Apps on
QUESTION: What are the actual sizes and differences in the bait screw keepers. Are they sold at any retailers? ANSWER: Marty, Thank you for reaching out to us. We appreciate your business very much. Large: 1/2″ Length – Best for 7inch Original and smaller baitsXL: 1″ Length – Best for 10″ – 14″ BaitsXXL: 2″ Length – Best for trolling spreader bars, umbrella rigs and Big Game topwater presentations. Please let me know if you have any other questions, I'm happy to help. Best Regards, Capt. Ross Gallagher
---