Q&A — Yellowtail Snapper
Posted by Ross Gallagher on
Q: Hello, I am going to the Bahamas in a few weeks and intend to do some casting off the beach/ rocks near my house. Do you recommend a lure set that would be good for yellowtail or red snapper? Grouper too if possible! Thank You! - Andrew C. A: Enjoy your upcoming trip to the Bahamas! Land-based anglers will encounter a variety of toothy species including Barracuda and Houndfish, so durable jigs and plugs are recommended. The Hogy Heavy Minnow Jig is a universal fish catcher in tropical waters. These super-durable, long casting jigs can be used to target...
Posted by Ross Gallagher on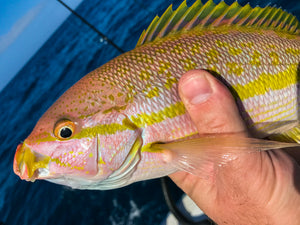 Q: Do you have jigs or plastic for Yellowtail Snapper? A: I have a few favorite jigs for targeting Yellowtail Snapper. Quick question, are you fishing shallow reefs, like in the keys or deeper wrecks 100' plus?Our lightweight 1/2oz and 3/4oz Heavy Minnow Jigs are awesome for shallow yellow jigging, they work great on a drift and really knock it out of the park when combined with traditional yellowtail chumming / bait fishing. I usually have a few folks fishing bait in the slick, then two jigs working the water column. The jigs usually produce 4:1. If you're out deeper,...