Q&A — Striped Bass
Posted by Ross Gallagher on
QUESTION Hi! I am a Cape Cod Canal striper fisherman with a good array of large plugs, darters, swimmers and savage rubber tails. I am looking for a few epoxy jigs for spring and fall for striper fishing.  It seems some smaller stripers were around in May and October in the canal and I think I need a few epoxy jig to match smaller fish but still handle larger ones, hook wise.  Casting distance also seems important at the canal and most of my big lures are 3oz - 3.75oz. I know I need to balance Epoxy Jig size vs...
Posted by Ross Gallagher on
QUESTION:  Hello there, thank you for your time. I'm looking to get into some striped bass fishing this spring in the Connecticut River and Connecticut coast. I'm primarily a freshwater guy but wanted to explore the smaller, schoolie striper season but didn't know where to start when it comes to lures. If I'm looking for a basic variety of baits, could you point me in the right direction? I'm not sure if this matters but I'll be using two spinning rod outfits; a 7'2" medium power, fast action and a 7'2" medium/light power, fast action. Thanks so much and Happy...
Posted by Ross Gallagher on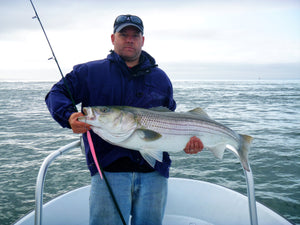 Q: I'm a big fan of your products but would like to get a better focus on what to use. I fish the Western Long Island Sound from a boat in water depths from 12' to 60' or more. I target stripers and blues most of the season, though occasionally look for fluke and flounder. Most of the forage here is bunker, both full size, and peanut. What size, style, and rigging do you recommend for this? I would appreciate recommendations for both surface and deeper water, and occasional trolling. A: Thank you for reaching out to us. We appreciate...
Posted by Ross Gallagher on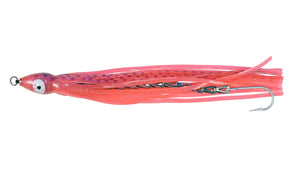 Q: I just purchased a variety of your plastic trolling squid. I have a 24 ft boat, what is optimal trolling speed or range of speed targeting strippers in LI sound?
A: The best trolling speed for these squids is around 2-3.5knts. They can be trolled a little faster than tube trolling speeds, so it's a good way to cover ground looking for active fish. It's also best to work the rod in a jigging motion while on the troll, you can also drop out of gear when fish are marked to drop back the squid and try to get bit.
Posted by Capt. Michael Hogan on
QUESTION: I'm new to T&W, was going to get lead core line. How should I choose between weighted and non weighted perfect tube? I live in NJ and would be trolling for stripers. Also what are good lengths to start with? ANSWER: You've got an excellent question about when and where to use the regular Perfect Tube or the Dual-Weighted version.  The regular Perfect Tubes still offer a fair amount of weight from the stainless frame and rigging. Our 19inch Regular Perfect tube is 2.5oz total weight and the 24inch is right about 3oz. When we add the dual weighting...
---