Q&A — Epoxy Jig Lures
Posted by Capt. Michael Hogan on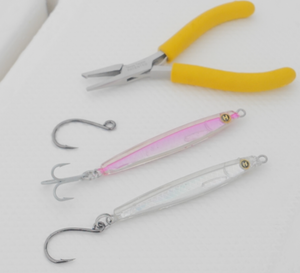 Q: Hi, I'm changing out some treble hooks to single inline hooks on my Hogy Epoxy Jigs. Do you recommend hook point up or down? Can you explain the pros and cons of each of these hook placements? I'll be using these mostly from kayak around the Nobska area. - Tim H. A: I prefer hook pointed down. I've tried both ways an found I get more and better hookups this way on albies and tuna. No other reason. VMC in-line singles are my hook of choice. - Capt. Terry Nugent | Riptide Charters A: I don't not change the...
Posted by Ross Gallagher on
Question:  We have Shad in the Merrimack River, which products would you recommend to mimic these bait fish? Thanks,Gary Answer: Hi Gary, Thank you for reaching out to us. We appreciate your business very much. I'm happy to provide some recommendations on imitating Merrimack River Shad. From a quick bit of research, it looks like the shad anglers target are pretty sizable, these are my recommendations for imitating larger shad: 1. Topwater Slow Twitch: The 10" Hogy Original is great for slow moving rivers and tidal areas. It is ideal for casting during low light periods and when casting around...
Posted by Ross Gallagher on
QUESTION Hi! I am a Cape Cod Canal striper fisherman with a good array of large plugs, darters, swimmers and savage rubber tails. I am looking for a few epoxy jigs for spring and fall for striper fishing.  It seems some smaller stripers were around in May and October in the canal and I think I need a few epoxy jig to match smaller fish but still handle larger ones, hook wise.  Casting distance also seems important at the canal and most of my big lures are 3oz - 3.75oz. I know I need to balance Epoxy Jig size vs...
Posted by Jamie Costa on
Kevin McDermott of the United Kingdom reached out to representatives at Hogy Lure Company in search of recommended lures for fishing on Denis Island in the Seychelles, which is an archipelago of 115 islands in the India Ocean, off of East Africa. Question: I'm travelling to Denis Island in the Seychelles for a week and plan on doing some fishing form the shore every day a travel rod and 15lb gear. I think jigs, poppers and soft baits will work since it's in the middle of the ocean and friends have told me the fishing is very aggressive with jacks,...
Posted by Jamie Costa on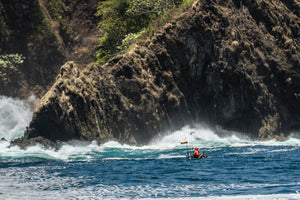 Q: I am taking a tip to kayak fish on Panama's wild west coast and wanted to know what Capt. Mike suggested for catching Roosterfish, Cubera Snapper and Yellowfin Tuna down in those waters? A: There are a lot of different lures Hogy would recommend for these various situations. Let's break it down by category. Plugs – 60% of your casting will be done with plugs. Topwater poppers and subsurface gliders are dynamite for Roosters, Tuna and a variety of the snapper species. Our Charter Grade Poppers in the large 5.5-inch size will be ideal. The 5.5-inch Slider will be...
---