Q&A — Jigging
Posted by Jamie Costa on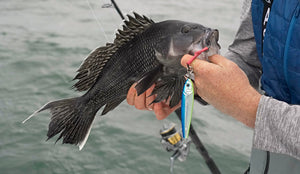 Question:  Hello, I am a huge fan of your lures and I am getting ready to place an order for the upcoming season and I had a few questions. I love jigging for seabass off Cuttyhunk with your jigs. But I lost all my jigs in the rocks last year and I can't remember what size and weight would be best. Can you make a recommendation? Also, can you recommend a rod and reel for that type of action as well? Thanks,Mike Answer: Hi Mike, Thank you for your business and reaching out about this question! I'm sure a lot...
Posted by Ross Gallagher on
Question:  Hi! What jigs do you recommend for fishing at the Dry Tortugas in about 200 to 300-feet of water? I'm going in a couple of weeks to target big snapper.  Thanks,Robert  Answer: Hi Robert, Thank you for reaching out to us. We appreciate your interest very much. I'm happy to provide some suggestions for jigging in the Tortugas. I've fished the NE corner several times with my buddy who Captain's the Sea Trek out of Fort Myers. We're usually targeting big Muttons, Porgy, African Pompano and Tuna.  Here's a couple "must have" items that will come in hand on...
Posted by Jamie Costa on
Kevin McDermott of the United Kingdom reached out to representatives at Hogy Lure Company in search of recommended lures for fishing on Denis Island in the Seychelles, which is an archipelago of 115 islands in the India Ocean, off of East Africa. Question: I'm travelling to Denis Island in the Seychelles for a week and plan on doing some fishing form the shore every day a travel rod and 15lb gear. I think jigs, poppers and soft baits will work since it's in the middle of the ocean and friends have told me the fishing is very aggressive with jacks,...
Posted by Jamie Costa on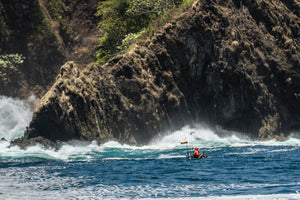 Q: I am taking a tip to kayak fish on Panama's wild west coast and wanted to know what Capt. Mike suggested for catching Roosterfish, Cubera Snapper and Yellowfin Tuna down in those waters? A: There are a lot of different lures Hogy would recommend for these various situations. Let's break it down by category. Plugs – 60% of your casting will be done with plugs. Topwater poppers and subsurface gliders are dynamite for Roosters, Tuna and a variety of the snapper species. Our Charter Grade Poppers in the large 5.5-inch size will be ideal. The 5.5-inch Slider will be...
Posted by Ross Gallagher on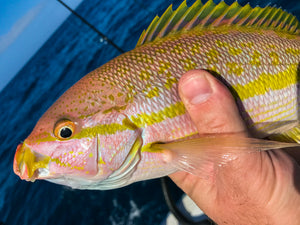 Q: Do you have jigs or plastic for Yellowtail Snapper? A: I have a few favorite jigs for targeting Yellowtail Snapper. Quick question, are you fishing shallow reefs, like in the keys or deeper wrecks 100' plus?Our lightweight 1/2oz and 3/4oz Heavy Minnow Jigs are awesome for shallow yellow jigging, they work great on a drift and really knock it out of the park when combined with traditional yellowtail chumming / bait fishing. I usually have a few folks fishing bait in the slick, then two jigs working the water column. The jigs usually produce 4:1. If you're out deeper,...
---