Q&A — Pro Tail Paddle
Posted by Jamie Costa on
Question: I'm looking to target snook under bridges in waterways and from the beach. What do you recommend? Thank you, Joel Answer:  Hi Joel, Thank you for reaching out to us, we appreciate your business very much.  1. Waterways: Snook love moving water, which makes the incoming and outgoing tides best, especially when accompanied with structure - bridges in this case. Because they are ambush predators and don't like to work for their food, they tend to hide and wait for something to drift past them before they strike.  Two techniques come to mind in this specific situation. The first would...
Posted by Ross Gallagher on
Question:  We have Shad in the Merrimack River, which products would you recommend to mimic these bait fish? Thanks,Gary Answer: Hi Gary, Thank you for reaching out to us. We appreciate your business very much. I'm happy to provide some recommendations on imitating Merrimack River Shad. From a quick bit of research, it looks like the shad anglers target are pretty sizable, these are my recommendations for imitating larger shad: 1. Topwater Slow Twitch: The 10" Hogy Original is great for slow moving rivers and tidal areas. It is ideal for casting during low light periods and when casting around...
Posted by Ross Gallagher on
QUESTION:  Hello there, thank you for your time. I'm looking to get into some striped bass fishing this spring in the Connecticut River and Connecticut coast. I'm primarily a freshwater guy but wanted to explore the smaller, schoolie striper season but didn't know where to start when it comes to lures. If I'm looking for a basic variety of baits, could you point me in the right direction? I'm not sure if this matters but I'll be using two spinning rod outfits; a 7'2" medium power, fast action and a 7'2" medium/light power, fast action. Thanks so much and Happy...
Posted by Ross Gallagher on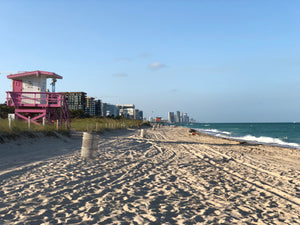 Q: I am planning on surf fishing on the Atlantic Ocean side of Florida and need some new tackle. Could you please recommend some lures that you think would be appropriate for this environment? A: Depending on  your location in FL, your primary beach target species will probably be jacks, snook, ladyfish and mackerel. If you're headed that way later into the spring, tarpon are a possibility as well. My favorite "catch all" style lure for beach fishing is our smaller Heavy Minnow Jigs in 1/2oz - 3/4oz weights. I fish these on a medium spinning outfit with 20lb braid...
Posted by Ross Gallagher on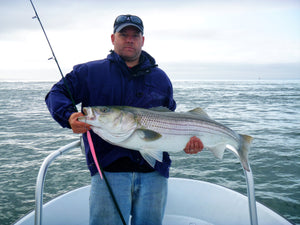 Q: I'm a big fan of your products but would like to get a better focus on what to use. I fish the Western Long Island Sound from a boat in water depths from 12' to 60' or more. I target stripers and blues most of the season, though occasionally look for fluke and flounder. Most of the forage here is bunker, both full size, and peanut. What size, style, and rigging do you recommend for this? I would appreciate recommendations for both surface and deeper water, and occasional trolling. A: Thank you for reaching out to us. We appreciate...
---