Q&A — Yellowfin Tuna
Posted by Ross Gallagher on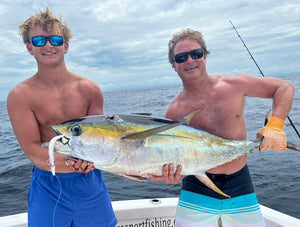 Topwater: 7" Charter Grade Popper Work this plug around visible surface feeds, or in areas where you're marking fish in the upper water column. Excellent for low light conditions, or when surface bait is present. https://hogylures.com/collections/charter-grade-poppers/products/charter-grade-popper-3-5oz-7inch   Mid-Water: 6.5oz Sand Eel Jig These jigs are perfect for targeting Yellowfin Tuna suspended mid-water column feeding on a variety of baitfish species. The jigs can be worked with a speed jigging retrieve to quickly cover the water column, or be fished using the slow-twitch method for working precise depths using a slow, short twitching motion in the strike zone. https://hogylures.com/collections/sand-eel-jigs/products/6-5oz-6-sand-eel-jig-vmc-assist-hook Deep-Water: 6oz...
Posted by Jamie Costa on
QUESTION: Hi Ross, I was wondering if you could tell me how many pounds of drag you set your reels for while trolling the Hogy Flexi-Bars for tuna? Some say set-to-strike and set strike to 1/3 of line test. For example, 20lbs for 60lbs of braid. Others say 10-13lbs while trolling and move the lever drag slowly to strike after hooking up.  What do you recommend? Thanks, Andre ANSWER: Hi Andre, Thank you for reaching out to us! We appreciate your business very much. I tend to go lighter, maybe 10lb, if using light tackle (say 40lb or 60lb). I...
Posted by Jamie Costa on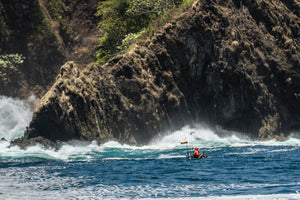 Q: I am taking a tip to kayak fish on Panama's wild west coast and wanted to know what Capt. Mike suggested for catching Roosterfish, Cubera Snapper and Yellowfin Tuna down in those waters? A: There are a lot of different lures Hogy would recommend for these various situations. Let's break it down by category. Plugs – 60% of your casting will be done with plugs. Topwater poppers and subsurface gliders are dynamite for Roosters, Tuna and a variety of the snapper species. Our Charter Grade Poppers in the large 5.5-inch size will be ideal. The 5.5-inch Slider will be...
Posted by Booster Apps on
Q: Our next tuna outing is to NW Providence channel Bahamas in May. We chunk, kite fish, and jig for YF. I would like to try your jigs for this trip. The jig needs to sink to at least a 150 foot depth. Please let me know which jigs you would recommend. Thanks. A: We've got some great options for targeting YFT on your trip to the Bahamas. Harness Jigs: Available up to 6oz, these are a favorite for casting and jigging. For targeting depths of 150'+ I'd go with 5oz or 6oz weights. Top colors are bubblegum, silver, glow and mackerel. ...
Posted by Booster Apps on
QUESTION: I'll be headed over to the Bahamas for a few weeks and plan on targeting reef and offshore fishing during my trip, as well as fish in a tournament. What are the best lures to use for grouper, snapper, tuna, kingfish and wahoo? Thanks,Pamela ANSWER: Pamela, We appreciate your business very much. I hope that these baits and tips will get you on the board in your tournament! HDUV Soft Baits and Flounder on Barbarian Jig Heads These baits are excellent when worked near the bottom for snapper and grouper. If you speed up the retrive and work in...