Q&A — Heavy Minnow Jig
Posted by Ross Gallagher on
Q: Hello, I am going to the Bahamas in a few weeks and intend to do some casting off the beach/ rocks near my house. Do you recommend a lure set that would be good for yellowtail or red snapper? Grouper too if possible! Thank You! - Andrew C. A: Enjoy your upcoming trip to the Bahamas! Land-based anglers will encounter a variety of toothy species including Barracuda and Houndfish, so durable jigs and plugs are recommended. The Hogy Heavy Minnow Jig is a universal fish catcher in tropical waters. These super-durable, long casting jigs can be used to target...
Posted by Jamie Costa on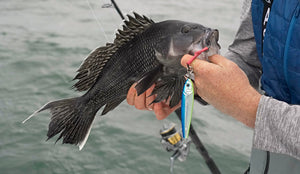 Question:  Hello, I am a huge fan of your lures and I am getting ready to place an order for the upcoming season and I had a few questions. I love jigging for seabass off Cuttyhunk with your jigs. But I lost all my jigs in the rocks last year and I can't remember what size and weight would be best. Can you make a recommendation? Also, can you recommend a rod and reel for that type of action as well? Thanks,Mike Answer: Hi Mike, Thank you for your business and reaching out about this question! I'm sure a lot...
Posted by Ross Gallagher on
Question:  Hi! I have two rods and a sailboat. I want to troll during the day; anchor and jig. I can cast from the bow at anchorage in the early evening. Just for a bit of entertainment! What would you suggest I purchase for around $100 for a basic kit? Answer: Hi Brendan, Thank you for reaching out to us. We appreciate your interest very much! We're happy to provide some custom suggestions for having fun, catching a few fish on the sail boat. I have two products in mind that will be very simple to use: 1. 2oz Heavy...
Posted by Ross Gallagher on
Question:  Hi! What jigs do you recommend for fishing at the Dry Tortugas in about 200 to 300-feet of water? I'm going in a couple of weeks to target big snapper.  Thanks,Robert  Answer: Hi Robert, Thank you for reaching out to us. We appreciate your interest very much. I'm happy to provide some suggestions for jigging in the Tortugas. I've fished the NE corner several times with my buddy who Captain's the Sea Trek out of Fort Myers. We're usually targeting big Muttons, Porgy, African Pompano and Tuna.  Here's a couple "must have" items that will come in hand on...
Posted by Ross Gallagher on
QUESTION Hi! I am a Cape Cod Canal striper fisherman with a good array of large plugs, darters, swimmers and savage rubber tails. I am looking for a few epoxy jigs for spring and fall for striper fishing.  It seems some smaller stripers were around in May and October in the canal and I think I need a few epoxy jig to match smaller fish but still handle larger ones, hook wise.  Casting distance also seems important at the canal and most of my big lures are 3oz - 3.75oz. I know I need to balance Epoxy Jig size vs...
---