BHJ2eChix
2oz (3.5inch) Peanut Jig
---
Product Features
Solid Metal Core For Exceptional Casting Distance
Durable, Through Wired Construction

Reflective Scale Finish

Subsurface Side-To-Side Swimming Action

4X VMC Treble Hook

Imitative Laser Eye

We let nature do the designing on our new Peanut Bunker Jig. These tiny jigs are perfect imitators of baby bunker. It's flat sided body shape offers a seductive side to side wobble on a steady surface retrieve, great for targeting finicky Albies. When fish go deep, the Baby Bunker Jig offers an excellent flutter fished on a drop slack jigging retrieve.
Customer Reviews
Write a Review
Ask a Question
Change it up!
Last year, on an early October trip to the Vineyard, I was popping around chappy, looking for one last good shot at albies, after a great fall using Hogy epoxies on the mainland. A stop at a well-known albie spot revealed breaking fish, but having lockjaw for the other anglers. These fellow fishing fools were tossing everything under the sun, but not the peanut jig. I tied on a 1oz jig, recently purchased. Immediately i was tight, and after a couple more hookups, we were off to the rooftop in Edgartown for beverages and football. The peanut jig has found a permanent spot in my albie bag!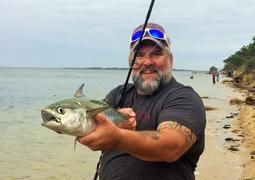 11/22/2020
Craig B.
United States
Great action
I liked the action looks promising
11/09/2020
Guo D.
United States
Very good
very good for striper and tuna
10/22/2020
Eric H.
United States
versatile jig
This is a very versatile jig. The flat shape gives it a great flutter on the fall and a nice kick when you swim it. I use the peanut bunker jig in conjunction with the heavy minnow. If I'm fishing deep and it isn't windy I use the peanut bunker jig and if it is windy and I need to get down faster I will upsize to a heavier heavy minnow. The peanut bunker jig is great for jigging shallow for black sea bass, stripers, *******, fluke, blues, weakfish, etc. On days when the drift is slow, I use it for cod and lake trout. I have even caught smallmouth bass and cusk on them. I use it for breaking stripers and albies, it swims really well and it's easy to let it get under the breaking fish to try to hit larger ones below.
---
We Also Recommend