How-To — Blackfin Tuna
Posted by Ross Gallagher on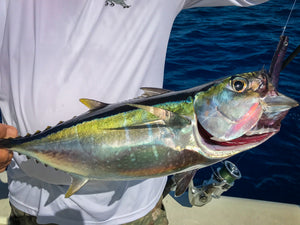 Tuna Worm Trolling Lure For Blackfin Tuna Fantastic Blackfin Tuna fishing lies just a few miles out past the reef.  Their depth and abundance changes with the seasons, but these basic lure techniques have proven to be effective year-round. Trolling: There's a wide variety of trolling methods for both Tuna. I'll cover a technique that uses a lure that can be trolled and casted on offshore spinning tackle. The 7inch 1.75oz Pro Tail Eel really came to shine on a recent tip to Marathon fishing with Two Conch's Charters on the humps. Blackfin tuna were spread out and finicky. Trolling...
Posted by Ross Gallagher on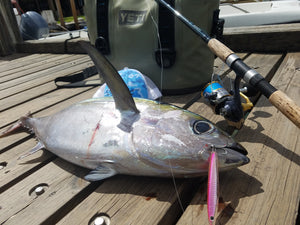 I brought my own gear to the island to target the fishery of the rich inshore and nearshore waters with Laurenz. Over the years, we explored more and more of the island and learned all about the extraordinary, and yet unrecognized, fishery. We used many jig and pop techniques to target both inshore and pelagic species.
Posted by Booster Apps on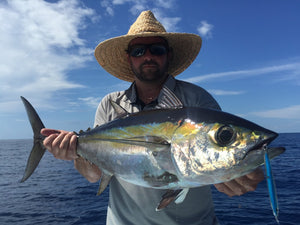 We spent 15 minutes on the phone with Capt. Travis Holeman to discuss the best Hogy Lures for catching Blackfin Tuna in the Florida Keys. Here's what we learned...  Capt. Travis HolemanWebsite: www.keywestangling.comFacebook: Key West Angling Location: Florida Keys Season: Late summer/fall tuna push Tides/Current: These fish are generally located in or very near the gulf stream. Approach: Several methods are productive. Casting SI Epoxy Jigs at surface feeding fish is of course the most fun and easiest way to catch. However the tuna could be swimming near the surface, digesting the days feed.  In this case casting ahead of the traveling fish or...