SE71
Sand Eel 7" (3pack) Dark Sand Eel
---
Product Features
Ultra Imitative Sand Eel Soft Bait

3X Soft Plastic For Ultra Action

Realistic Hand Spray Painted Detail

Eyes Glued For Increased Durability

Reactive Ridges For Extra Action

The Hogy Sand Eel's translucent quality truly mimics the delicate nature of sand eels. These hard to beat imitations are perfect imitators of small sand eels, rain bait, and other small forage. Ideal for rigging on our small weighted swim bait hooks and jig heads.
Customer Reviews
Write a Review
Ask a Question
Sand eels, they work enough said. Purchased these for fishing brown trout and salmon in Michigan but took them along for a trip to the Florida west coast. Red tide all but eliminated the live bait we usually make and we proceeded offshore with 4 live baits for 3 fishermen. Once out in the 35-40 mile range offshore one bait fishermen and 2 using jigs and these eels attached to both light and heavy jig heads. Boated amberjack, gag and red grouper, released multiple barracuda. The way back to the dock was hindered by 6-7' swells so we tried trolling at 7-8knots and boated multiple tunny tuna to 15 lbs. These eels made a questionable trip a lot of fun, won't go offshore without them again. Keep up the good work Tom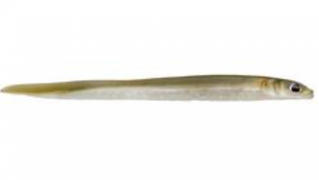 Very Effective Sand Eel
I use the sand eel around jetty's and piers and it's amazing how fast strippers hit the lure. It's also fantastic for catching sea trout in the spring season.
Great for striped bass
Realistic and durable. Would buy again
---
We Also Recommend